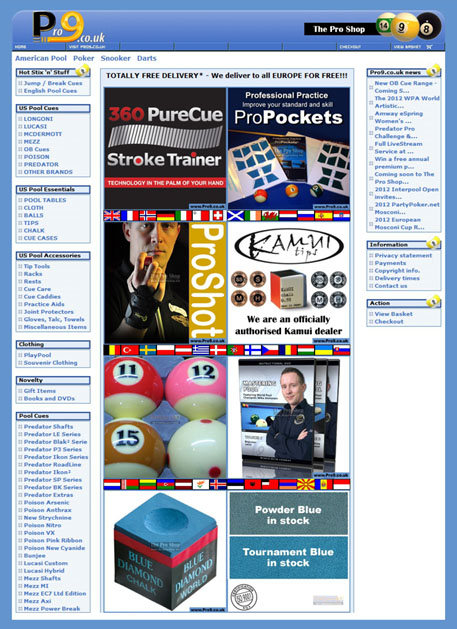 The Pro Shop united as Big Dave becomes 100% owner!
In April I will become the 100% owner of The Pro Shop, a business formerly run in joint partnership with Andy Watts with a good deal of assistance from Ann Khan.
Keen eyed customers may have spotted that we've been running down our stock levels at The Pro Shop - I hope this hasn't been too inconvenient, but it has been necessary to facilitate an affordable transfer of ownership, and I'll start gradually increasing stock levels as soon as the the deal is done, please be patient while this process is completed.
On a personal note... I'm really looking forward to this new challenge - I've been wanting to consolidate the operation for a long time, and I see many benefits from conducting the business from a single, centralised location. I aim to continue the standard set by Andy and Ann for the high-speed delivery of smaller items, but there are many improvements I will be able to implement too!
I want to provide a much more personal level of customer service, especially for our most important cue buying customers - I will be able to devote much more time to being flexible for these higher value customers. I will be approachable, more readily contactable, and eager to answer all your questions.
I promise to investigate ways to drastically speed up delivery times of cues - this is a personal ambition of mine - and I am already in the process of increasing the range of cues available - and I have started massively increasing the number of cues held in stock, all this, while at the same time, continuing to provide unbeatable value for money for our pan-European customers.
We really are the best place in Europe to buy all your equipment, don't get tricked into thinking you can buy cheaper elsewhere, retailers in America often won't tell you about extra charges you'll have to pay before your items are released for delivery once they arrive in Europe, and don't accept a free delivery offer if it's restricted to a "if order value is over £xxx" clause. When you shop at The Pro Shop the price you see is the total price you pay, we offer genuinely free delivery, and you'll get no unpleasant surprise charges on arrival, just a speedy, hassle-free delivery of your order, anywhere in Europe.
Yes, just the same as previously, almost all items will continue to be delivered to ANYWHERE in Europe - ABSOLUTELY FREE* - NO HIDDEN CHARGES!!! *We are happy to deliver worldwide, but due to their size and weight, some of these items (like pool tables for instance) can only be delivered free in the UK.
Finally, I would like to thank Andy and Ann for their sterling efforts over the last 6 years - without their enthusiasm and tireless efforts The Pro Shop simply wouldn't have got off the ground. We will always remain the best of friends, and I wish the whole family all the best for the future.